Hey Lovelies!
Today I wanted to share with you my very first giveaway. I want to do one of my own one day of my hand-picked favourite items for my lovely followers but today I bring you something just as good. This is a sponsored giveaway by the lovely Grace. She owns a store and creates her own button earrings for it, amongst other jewellery. I got the chance to have a lovely talk with her and got to know her better. Her motivation and drive to create something that represented the classic women is how these earrings came about. Her earrings are definitely made with love and can come in different sizes. The pair of earrings for this give-away will be largely sized and I'll show that off down below.
Review
These earrings are very beautiful and funky, definitely a statement piece to wear around. I personally love the large size as it allows the earrings to not get lost within all my long hair. The fabric of the earrings are gorgeous and well put together meaning that its not going to move anywhere or get caught in anything.
She also has now created these lovely necklaces that I absolutely adore and find beautifully unique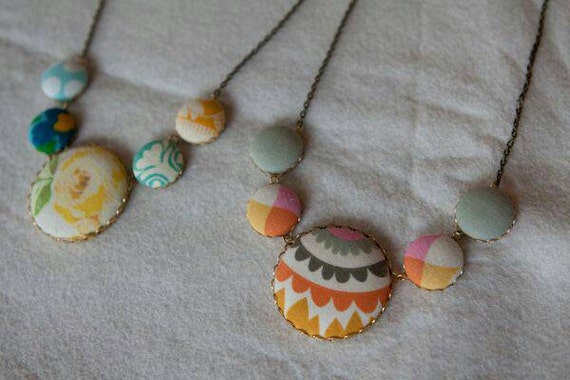 The Giveaway
For chance to win a Pair of beautiful button earrings made by Grace as shown in my photos, please join into this Giveaway by commenting down below!
The Rules are simple, to participate you must be:
Following my blog.
Have commented on this post with your favourite item from Grace's Store.
For an extra entry into the giveaway: Follow My Instagram page or/and Reblog this post.
Giveaway closes next week on the 8th of November